:::
<!#--所有資料+cate tab --> <!#--detail-->
#InnoVEXOnlineDemo will be debuted on June 29
Online Date: 2020/06/19
Modify Date: 2020/07/20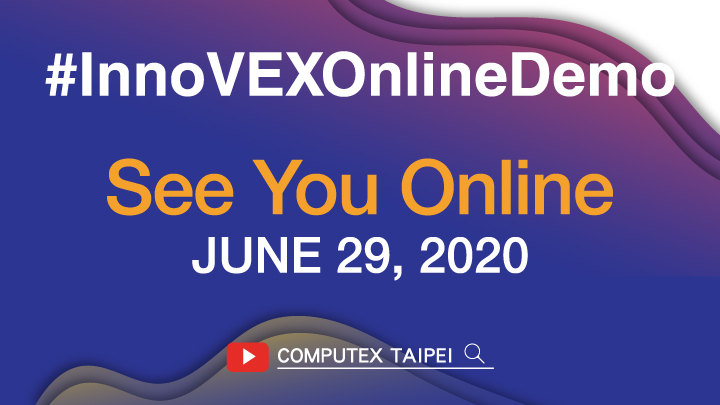 Facing the transformation of the digital economy in the aftermath of COVID-19, TAITRA, the organizer of COMPUTEX, has been committed to assisting tech industries by launching a series of integrated online services. Following the star-studded #COMPUTEXOnlineTalks, #InnoVEXOnlineDemo will be debuted on June 29. Five outstanding startups from the tech startup supporting programs of MOST (The Ministry of Science and Technology) of Taiwan will demonstrate their innovative solutions of healthcare, AI, image analysis and blockchain through COMPUTEX Facebook and YouTube channels.
The startup lineup of #InnoVEXOnlineDemo includes iWEECARE, AESOP Technology, WiseLongCare, All Aspect System, and Dapp Pocket. The medical startup iWEECARE has announced Temp Pal, the world's smallest smart thermometer patch. AESOP Technology provides medical prescription suggestions and alerting software which prevents medication errors using knowledge generated from 1.3 billion prescriptions. WiseLongCare presents AccuFitness, an APP featuring smart AI prediction and digital solutions for the health industry. All Aspect System has developed unmanned systems for infrastructure and environmental inspection. Dapp Pocket presents Cappuu, a smart wallet APP that enables purchases of Stablecoin with blockchain technology.
In collaboration with MOST, TAITRA aims to show the strength of Taiwan's startups through #InnoVEXOnlineDemo. More events such as O2O sourcing meetings and online exhibitions held by TAITRA will be launched to increase domestic growth momentum as well as to encourage global collaborations in tech industries. Stay tuned for #InnoVEXOnlineDemo and the upcoming events at:
COMPUTEX Facebook:www.facebook.com/COMPUTEX.TAITRA/
COMPUTEX YouTube channel: www.youtube.com/user/COMPUTEXtv
COMPUTEX website:www.computextaipei.com.tw
InnoVEX website:www.innovex.com.tw
COMPUTEX Twitter: @computex_taipei
About InnoVEX
InnoVEX is a feature exhibit of COMPUTEX and is recognized as one of the most influential startup platforms. In 2019, InnoVEX hosted a record number of 467 startups from 25 countries around the world. TAITRA, the organizer of COMPUTEX, holds various activities at InnoVEX such as matchmaking, demos, pitch contests, forums, and startup tours to connect global startups with Taiwan's advantage.
COMPUTEX 2021 will take place from June 1 to June 5 (InnoVEX exhibit from June 2 to June 4) at TaiNEX 1, TaiNEX 2, TWTC Hall 1 and TICC.