:::
<!#--所有資料+cate tab --> <!#--detail-->
#InnoVEXOnlineDemo Leads Top Innovators in Taiwan to Flex Their Muscles
Online Date: 2020/06/29
Modify Date: 2020/08/10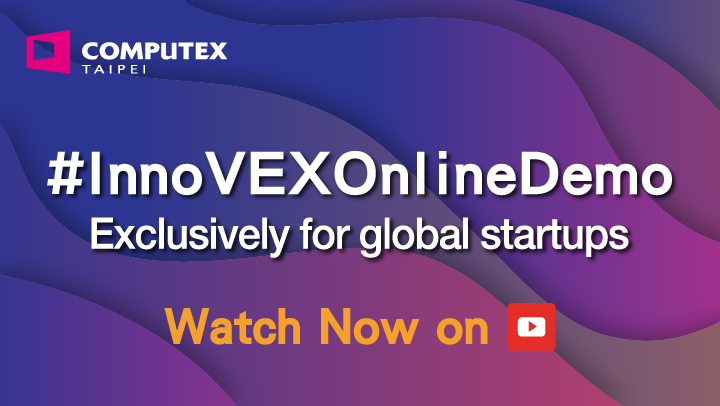 TAITRA launched the first #InnoVEXOnlineDemo through COMPUTEX Facebook and YouTube channels today to show the achievements of tech startups in Taiwan. Partnering with MOST (The Ministry of Science and Technology) of Taiwan, TAITRA invited five outstanding startups to demonstrate their innovative solutions of healthcare, AI, image analysis and blockchain at #InnoVEXOnlineDemo.
The COVID-19 pandemic sparked off crisis to the world, but it also acts as a massive disruptor that precipitates new opportunities for tech startups to thrive. According to Numbeo, Taiwan ranks #1 in the world's health care index and has built a solid value chain in the biomedical industry. #InnoVEXOnlineDemo hence presents three medical startups in Taiwan with different solutions.
WiseLongCare gives introduction of AccuFitness, an APP featuring smart AI prediction and digital solutions for the health industry. AccuFitness is the very first patented "Digital Twin" solution that takes 3D body measurements effectively through deep learning. It has been adopted by hospitals, healthcare centers and gyms to help users achieve their diet and exercise goals.
iWEECARE presents Temp Pal, a smart thermometer to detect the temperature of the individuals and give insights on body function in the application platform connected via bluetooth. The APP allows users to track their medication usage and temperature changes and thus to manage their health conditions. It also enables users to share their medical records and health data with their healthcare professionals.
AESOP Technology provides medical prescription suggestions and alerting software via MedGuard, an APP powered by machine learning and big data that prevents medication errors using knowledge of 1.3 billion prescriptions from the National Taiwan Healthcare System. MedGuard was granted SaMD clearance by FDA in September, 2019.
Moreover, tech startups focusing on unmanned systems and touchless economies are booming amid the COVID-19 pandemic as well.
All Aspect System is one of the early developers for the open source UAV and has developed unmanned systems, including air, land, surface and under surface vehicles, for infrastructure and environmental inspection. The company is the first and the only one that is able to quantify the photos taken from UAVs with less than 1mm and accuracy of 5%.
Dapp Pocket presents Cappuu, a smart wallet APP that enables the simplest way to buy and earn Stablecoin based on Ethereum blockchain.
By hosting online events such as #COMPUTEXOnlineTalks and #InnoVEXOnlineDemo, TAITRA devotes to build an O2O platform to connect the tech industries and to engage with all stakeholders despite the impact of the COVID-19 pandemic. For more information about next edition of COMPUTEX and the upcoming online events:
COMPUTEX Facebook:www.facebook.com/COMPUTEX.TAITRA/
COMPUTEX YouTube channel: www.youtube.com/user/COMPUTEXtv
COMPUTEX website:www.computextaipei.com.tw
InnoVEX website:www.innovex.com.tw
COMPUTEX Twitter: @computex_taipei